My studio has the following equipment:
Springdrops hand-painted backdrops
Various colors and styles available for your shoots, check out springdropsbackdrops.com for info.
Studio strobes
3x Elinchrom 250 w/s
2x Elinchrom 500 w/s
1x Elinchrom ELC1000 1000 w/s
1x Elinchrom ELB400 two heads
1x Elinchrom ELB1200 two heads
Metering
 Sekonic L-358 + built-in trigger
Triggers
1x Elinchrom EL-Skyport Fuji
1x Elinchrom EL-Skyport Nikon
2x Elinchrom generic Skyport for almost any camera with x-sync port
Soft boxes and umbrellas
1x 150cm Rotalux deep octa
1x 135cm Rotalux octa box
1x 100cm Rotalux indirect deep octa + grid
2x Strip box 50×150 + 2x grid
2x Strip box 35×100
2x Portalite 40×40
2x Shoot-through umbrella white
2x Umbrella silver/black
1x Umbrella Deep Silver 105cm + white cover
Light shapers 
1x 40cm Beauty dish white + grid
1x 40cm Maxi White
26cm HP reflector
1x 21cm reflector + grid
1x 18cm reflector + grid
4x uni umbrella reflector
2x wide umbrella reflector
1x Conical snoot + grid
Background reflector
Various deflectors and reflectors
Special equipment 
Ambitful Optical snoot + gobos + gels
Pixapro Optical snoot + canon EF mount + 50mm lens
Standards en tripods 
Cambo studio stand
Elinchrom and manfrotto light- and accessories stands
Manfrotto boom arm stand
2x C-Stand
Calumet background stands
Manfrotto autopoles
Other 
Bresser background cloth
Various cloths and curtains
Background paper in various colors
Wind machine
Smoke machine
Flags
V-Flats
Gels
Clamps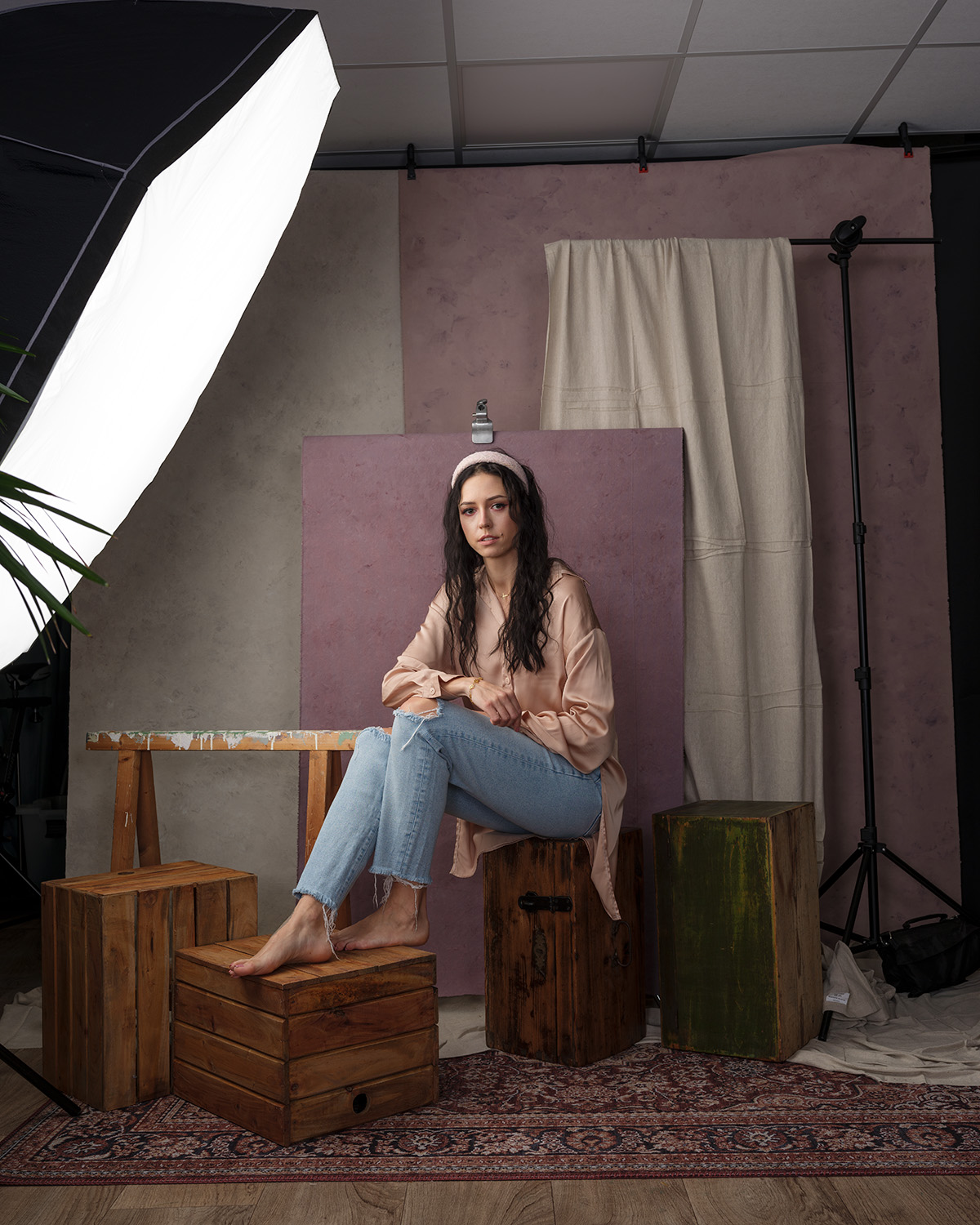 Prices 
My studio is suitable for shoots with no more than two persons/models, and not available for unattended use. Get in touch for information about possibilities and prices. 
Training / instruction 
I offer one-on-one training, for both digital and analog shooters. For analog photography, I have several 35mm, medium format and large format (4×5) camera's available. And equipment to develop and scan your film.